As we prepare for the resurrection talk this upcoming weekat club, we've been brainstorming potential "resurrection content songs." We're excited about playing "Beautiful Things" by Gungor. Lyrically it fits perfectly. The majority of the song is basically the simple chorus repeated, so it should be easy for kids to sing along.
It would be great to have someone learn the electric guitar part and also to have someone play drums. Here are some basic tips on building a YL club band.
There is a beautiful guy/gal echo part of the song, but make sure you practice it with male/female song leaders because it can get tricky.
Here is a link to download the PowerPoint slides. After clicking the link, it will take you to a Google Doc presentation. At the bottom left of the screen, click on the "Options" symbol and you can choose which format you would like to download.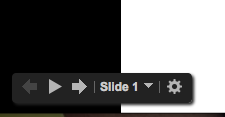 Here is a picture of the "Options wheel" to click on the far right.
Here is a link to a download/print the guitar chords.


Here are some additional songs with downloadable chords sheets and PowerPoints.What content songs do you recommend to play before the resurrection club talk? Please comment below.