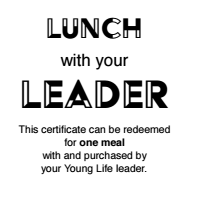 Need some good ideas for prizes at club?
We used to go to the dollar store and buy trinkets to give away…
Then we decided to hit up Goodwill for funny junk that could become YL treasure…
Then we bought old dress shoes and spray painted them gold, because who doesn't need a good pair of golden shoes…
But a few month ago I heard another leader in our area tell me what they do at their club. Sheer genius!
Anytime they have games/contests/raffles that require prizes to motivate kids to play, instead of giving away junk…. they give away contact work.
You read that correctly. They don't make a certificate that says "Contact Work." They make a certificate that says "LUNCH WITH YOUR LEADER."
Kids can win milkshakes or #1 combos from Chick-fil-a or any other fast food meal of their choice…brought to them at school during lunch.
What a brilliant idea!
You can download a PDF of "Lunch with your Leader" certificates here. (Thanks to Lydia Smith for creating this to share!)
Make sure to check with your school administration that it's ok to bring in outside food to the lunchroom. If not, give away "Breakfast with your leader" and take kids out to eat before school.