A Guest Post from Ashely Hart,2nd Year YL Staff in Asheboro, NCI love my job. I love it with every fiber in my being. What is my job? It's b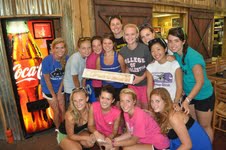 einga Young Life leader. It's investing in relationships with high school kids, loving them where they are and for who they are. It's a task that is all too impossible on my own. My capacity to love and love them well comes from one source alone and that source is Jesus. Only with Him is it even imaginable that I can do my job and do it well.
I get to have a lot of fun with my job, particularly on Monday nights when we have club and go crazy in costumes and with games. It's a lot of fun being in the student section at football games and losing my voice at the end of the night because we'vebeen screaming for 3 straight hours. It's a whole lot of fun talking about Jesus with my high school friends and seeing them start to realize and understand who/why they have been created to be and how much their Creator loves them.
But as much fun as my job is, it's as equally challenging. Being a Young Life leader is hard. It's hard. It's hard opening your heart to so many kids and walking through life with them. It's hard to do that because life is hard. Walking with them means letting them cry on your shoulder after a break-up. It's sitting down and talking through why they got arrested and what their future might look like. It's watching them be strong for their younger siblings when their parents are getting divorced. It's understanding that theydidn't ask for some of the situations that they're in and listening to them when they feel like they're being blamed for it. It's telling them they are worthy and that their lives mean something when they'vemade a bad grade or messed up and they feel like they're letting everyone down. It's sitting at a funeral in a church watching them fall apart over the loss of a loved one and it's giving them a hug because you just can't think of anything you could say to make their pain a little less.
This job is hard. But it's so good. It's worth every tear cried, every hand held, and every sleepless night to get to be a part of a kid's life. It's the most challenging and most rewarding thing I have ever taken on. It requires patience I don't possess and an amount of love I cannot supply. Thankfully, Jesus can. Jesus does. Thankfully, He uses me because in no way, shape or form does He need me. Thankfully, He fills me and allows me to go out and show these kids how much He loves them. Thankfully, He shows me how much He loves me at the same time. This is why I love my job.
"Dear Lord, give us the teenagers that we may lead them to Thee. Our hearts ache for the millions of young people who remain untouched by the Gospel and for the tragically large proportion of those who have dropped by the wayside and find themselves without spiritual guidance. Help us to give them a chance, oh Father, a chance to become aware of thy Son's beauty and healing power in the might of the Holy Spirit. Oh, Lord Jesus, give us the teenagers, each one at least long enough for a meaningful confrontation with Thee. We are at best unprofitable servants, but thy grace is sufficient. Oh, thou Holy Spirit, give us the teenagers. For we love them and know them to be awfully lonely. Dear Lord, give us the teenagers."
– Jim RayburnThanks Ashley! If any of you have an idea or post that you think other leaders could benefit from, please email YL1941 at gmail dot com about contributing.