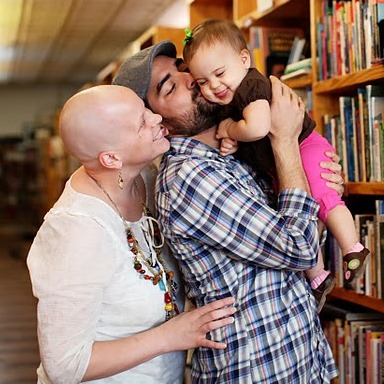 A Guest Post by Amy DiBias Patwa
Volunteer Young Life Leader in North Carolina
Leading Young Life this past year has been strange. Lots of changes. New leaders, close friends graduating, a new group of freshmen coming in, and… a cancer diagnosis. I wasn't embarrassed to be bald, necessarily, but i wasn't comfortable heading to the student section of the football game either. To make things a little harder for me, the kids I knew best had just graduated. Those kids knew my story and I didn't have to explain anything. With the new kids coming to Young Life, and me not really feeling comfortable at school, ministry suffered. I remember going to a field hockey game one day with my daughter Charis. A high schooler came up to me and asked, "What's it like having cancer?" I was by no means insulted, although a little taken aback. A lot of people are afraid to broach the subject with me so I was impressed with his bluntness.
I showed up at the school some in the fall, but decided I didn't really want to explain why I was bald to kids. Once I had surgery I really began to withdraw. It was an added layer. Not only did kids not really know what was going on or how it felt, but leaders didn't either. I was hoping that my cancer diagnosis would transform my ministry, but I was really struggling. I began pursuing a couple senior girls to go to camp and when they said yes it breathed new life into my ministry. As our camp trip filled up and my hair began growing back I found myself being at the school and Young Life events more and more. I was looking forward to really allowing my ministry to be transformed by my story regardless of how insecure I was feeling. I've slowly learned to let others in. Why not invite these teenagers in too? The upperclassmen I've known knew a little about my diagnosis, but I'm fairly certain the majority of Young Life kids did not. It was up to me to tell them, but not so much in a club announcement type of way.
Going to camp was a turning point for me. We had 18 guys and 9 girls from our school. I was close to three of the girls, knew a few of the others and only knew a few of the guys. I was the trip leader and knew traveling with them would be such a great opportunity to get to know them. Then I was told that a scan showed some new and questionable spots the day before i was to leave for camp. I could have left with the kids and pushed back further testing another week. It just didn't make any sense. I was hoping I could get the new tests done and meet them at camp mid-week. Getting to camp was a priority.
I pulled on property at 2:20am Thursday and got to surprise the girls in the morning. It felt so good to be there. I was struggling with feeling that i had already missed out on so much, then I felt the Lord say, "Don't focus on what you might of missed. focus on what you are here to experience." and I did. I got to get real with the girls and let them in to more of what was going on in my life. I also got to officially meet all the guys I didn't know and hang out with them. By the time we left Colorado three days later I felt like a Young Life leader again. Not a former staff person. Not a cancer patient. But a real Young Life Leader. And it felt so good.
(Amy Patwa's story will continue on The Young Life Leader Blog tomorrow.)