I don't remember the first time I met Ted Johnson; he tends to be the type of guy you need to meet a few times to truly 'capture' him. Over the years the settings varied: golf course, a hallway, a board meeting, or countless banquets. Adorned with a perpetual tan, wry smile, a glimmer in his eye, and an appearance like he just finished golfing, Ted was hard to miss. When your eyes met Ted's, you would receive a clear message of "there you are!" as you walked into the room. In a Young Life mission that is full of 'characters,' Ted was one of a kind!
Ted went to be with the Lord on December 1, 2020 and already, many of us are realizing the hole this leaves in the legacy, humor, and history of this mission. According to Ted, in 1956, Bob Mitchell "snookered" him into chaperoning a busload of kids to Malibu Club in Canada. Shortly thereafter he was on the local Santa Barbara adult committee! 60 Years later Ted split his time between Arizona and Colorado, as he continued to be actively involved with Young Life in both states.
Over the years Ted served on five different local committees as well as holding the national Committee Chair role. In 1990, he became president of the Young Life Foundation and served the mission as interim president for 18 months beginning in 1992. In addition to the Young Life Foundation role, he handled a variety of duties including raising money and speaking at over 247 banquets. In 2014, he 'officially' semi-retired.
If you have had your own encounter with Ted, then you completely understand why he was fondly described as YL's Chief Encouragement Officer (CEO). You left every interaction feeling smarter, taller, funnier, wiser, and a better golfer then you were just moments earlier. He just had that gift. I think in a person's life there are a handful of encounters where someone speaks, truth, vision, and calling into your life. It may be a parent, teacher, close friend, or perhaps a Young Life leader or Pastor. Although their statements may range from eloquent to clumsy, they ARE always significant! In my life, Ted was responsible for ONE of those encounters. After a 7:00 am call on November 27, 2020 he added a SECOND one.
Early that Friday morning in November, I received a call asking if I had a few minutes to talk to Ted. 'YES!' was my blurted response. I knew Ted was in the hospital fighting health issues complicated by Covid-19 and I was desperate to see/talk to him but knew that would be difficult. The call lasted 47 minutes and it was full of the expected humor and sharp wit that disguised the reality of an aging man in a hospital bed. Ted mentioned more than once that he thought he may pass (be promoted) that day! Urgency edits conversations and makes words intensify and linger, so the conversation shifted.
We talked about many things like the historical marks/cultural DNA of the Young Life mission and then he got to business. He wanted to make sure that with whatever influence and commitment I could muster I would help ensure that Young Life would continue to be about 5 things. The rest of the time was spent talking about these 5 marks of the mission of Young Life (My very own 'Ted' Talk).
Here are those FIVE: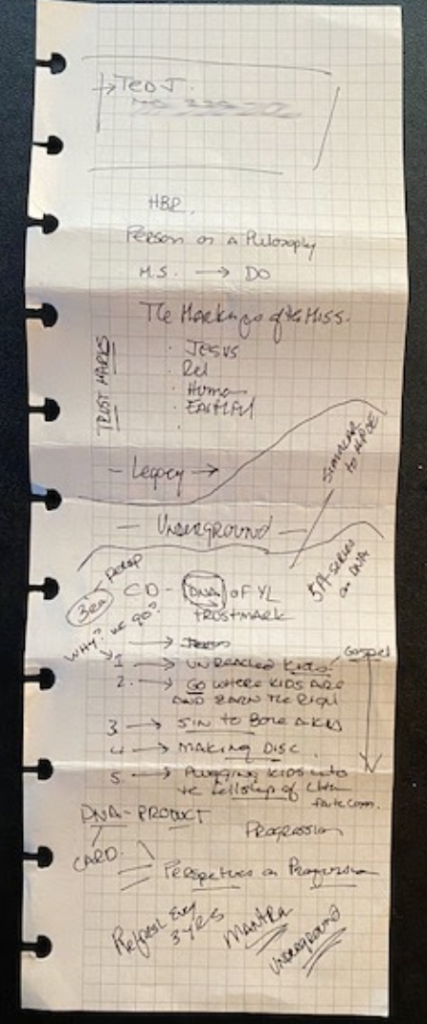 That we would be about UNREACHED/disinterested kids.
That we would find a way to go to them.
That we would always strive to make the gospel accessible because 'it's a sin to bore a kid'.
That we would be open to being in their life for a lifetime, because that's part of disciple making.
That we would be instrumental in getting them involved with the local church or faith community.
The phone call was a holy moment and a sacramental conversation. So here's the thing: nothing Ted shared was new or even had shifted in its phrasing. I might have just as well been reading from a Young Life Leader manual. That being said, it felt new to me, and I was renewed by it. I cried, I was inspired, called, convicted, and found my head nodding in agreement and hearing something close to "amen…amen" coming from my lips as he spoke. Truth tends to elicit that kind of response I guess.
At the end of the call, Ted encouraged me to help keep us (Young Life) on this 5-prong path and I found myself committing to that challenge and saying "Ted, trust me, I am not going anywhere. We will make sure we stay the course!" (I may have committed to a few more years on staff during that early morning phone call.) Over the subsequent weeks, I found out that Ted had dozens of calls like this with young and old staff all around the mission! Classic Ted! He made me feel like it was just for ME (and it was) and he made sure the message got to EVERYONE (and it did).
In an interview with our YL Alumni Department in 2016 Ted was asked what he would say to current and former staff. Here is his answer:
"To those who are currently serving in a staff role, I would say two things. Whatever it costs, stay focused on unreached kids. It's what Jesus would have done. Also, I encourage you to invite a former staff person to lunch and ask some questions. To those who are no longer serving in a staff role, if there are lines in heaven, you'll be in front. Thanks for your service!"

Ted Johnson
I want to be like Ted Johnson: affirming, funny, tan, golfing. But now I want to be like him in another way – thinking about Christ and Kids in the final week of his life and ensuring that the next generation and the generation after that understands the gift of being able to carry the torch. I'm hoping to make calls from my hospital bed when the time comes.
If you haven't had the privilege of having a Ted Johnson encounter, enjoy his cameo at YL2020 during THE NEXT BIG THING!