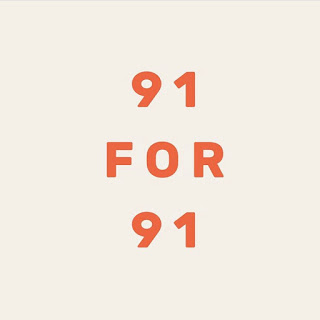 During the Ebola outbreak in Africa in 2014 health officials were predicting over 1 million people would die in three months. The Lord led them to pray Psalm 91 every day for 91 days and invite others to the same. They did. The very same week they completed the 91 days, an article in the New York Times declared the Ebola virus outbreak finished in its epicenter Liberia – much to the amazement of scientists and health officials. YL Africa started to pray Psalm 91 for 91 days, and they are inviting the rest of the mission to join them to pray Psalm 91 as we face the coronavirus outbreak.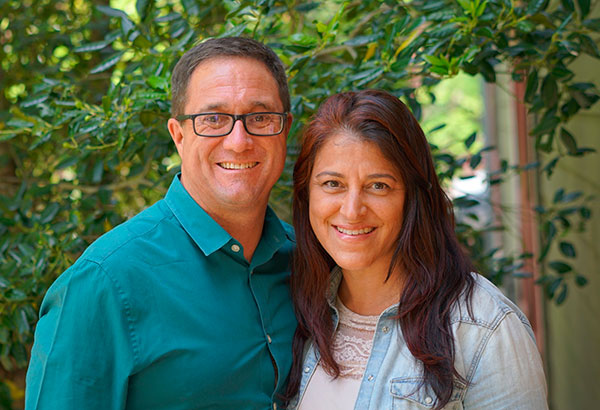 Steve Larmey, YL Senior Vice President of International East (Africa/Middle East, India, Asia, Australia) shared some insights that he learned in his first week of praying Psalm 91: 
1. God is clearing the deck so that we can focus on the right things in the right way – Him, His glory and purposes, in the power of His Spirit. He's swiftly sweeping away distractions and other options and making us look to and lean on Him. This is a good place.
2. Our hope and power is in worship and praise and intercession. Most of all our hope is in TIME with Him. Let's worship and praise him often and spontaneously, alone and when we're together. Let's SING – sing His praises, sing thanksgiving, sing of who He is, sing of His goodness. Be in His presence. And let's lift our arms up in prayer to Him. Like Moses on the mountain, our first work is to pray – pray for kids, pray for leaders and staff in our care, pray for families, pray for our mission leaders and Kingdom leaders across the globe, pray for cities, nations and the world.
3. Most of all: in this time of social distancing let's CLOSE THE DISTANCE BETWEEN GOD AND US. Let's reach out to Him, grab hold of Him, be closer to Him than ever before. And in this closeness to Jesus we will miraculously be bound and brought close to each other even in this time of isolation.
Be with Him. Listen to Him. Do what He says each moment of each day.
4.  "DO NOT WORRY ABOUT TOMORROW for tomorrow will worry about itself." Things are moving so fast, our planning is only good for a few days at a time. Let's "seek first his Kingdom and His righteousness and all these things will be given to us as well." Listen to the Lord each day. Do what He tells you each day. We will end up where He wants us. We are praying that the Lord would stop the COVID-19 virus in its tracks, and for courage and wisdom for Young Life leaders and the Church to be light and hope and joy in this darkness.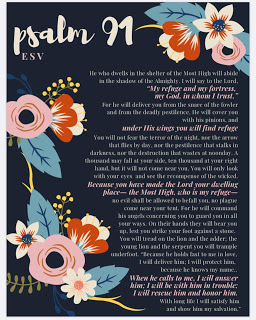 —
You can download a printable plain text copy of Psalm 91 here and download the design pictured to the right here.
It was created by Kelly Heritage and makes a great screensaver during these days.
Travis Feaver also shared a Spotify Playlist of Psalm 91 songs here.
Psalm 91
1- Whoever dwells in the shelter of the Most High will rest in the shadow of the Almighty.
2- I will say of the Lord, "He is my refuge and my fortress, my God, in whom I trust."
3- Surely, he will save you from the fowler's snare and from the deadly pestilence.
4- He will cover you with his feathers, and under his wings you will find refuge; his faithfulness will be your shield and rampart.
5- You will not fear the terror of night, nor the arrow that flies by day,
6- nor the pestilence that stalks in the darkness, nor the plague that destroys at midday.
7- A thousand may fall at your side, ten thousand at your right hand, but it will not come near you.
8- You will only observe with your eyes and see the punishment of the wicked.
9- If you say, "The Lord is my refuge," and you make the Most High your dwelling,
10- no harm will overtake you, no disaster will come near your tent.
11- For he will command his angels concerning you to guard you in all your ways;
12- they will lift you up in their hands, so that you will not strike your foot against a stone.
13- You will tread on the lion and the cobra; you will trample the great lion and the serpent.
14- "Because he loves me," says the Lord, "I will rescue him; I will protect him, for he acknowledges my name.
15- He will call on me, and I will answer him; I will be with him in trouble, I will deliver him and honor him.
16- With long life I will satisfy him and show him my salvation."