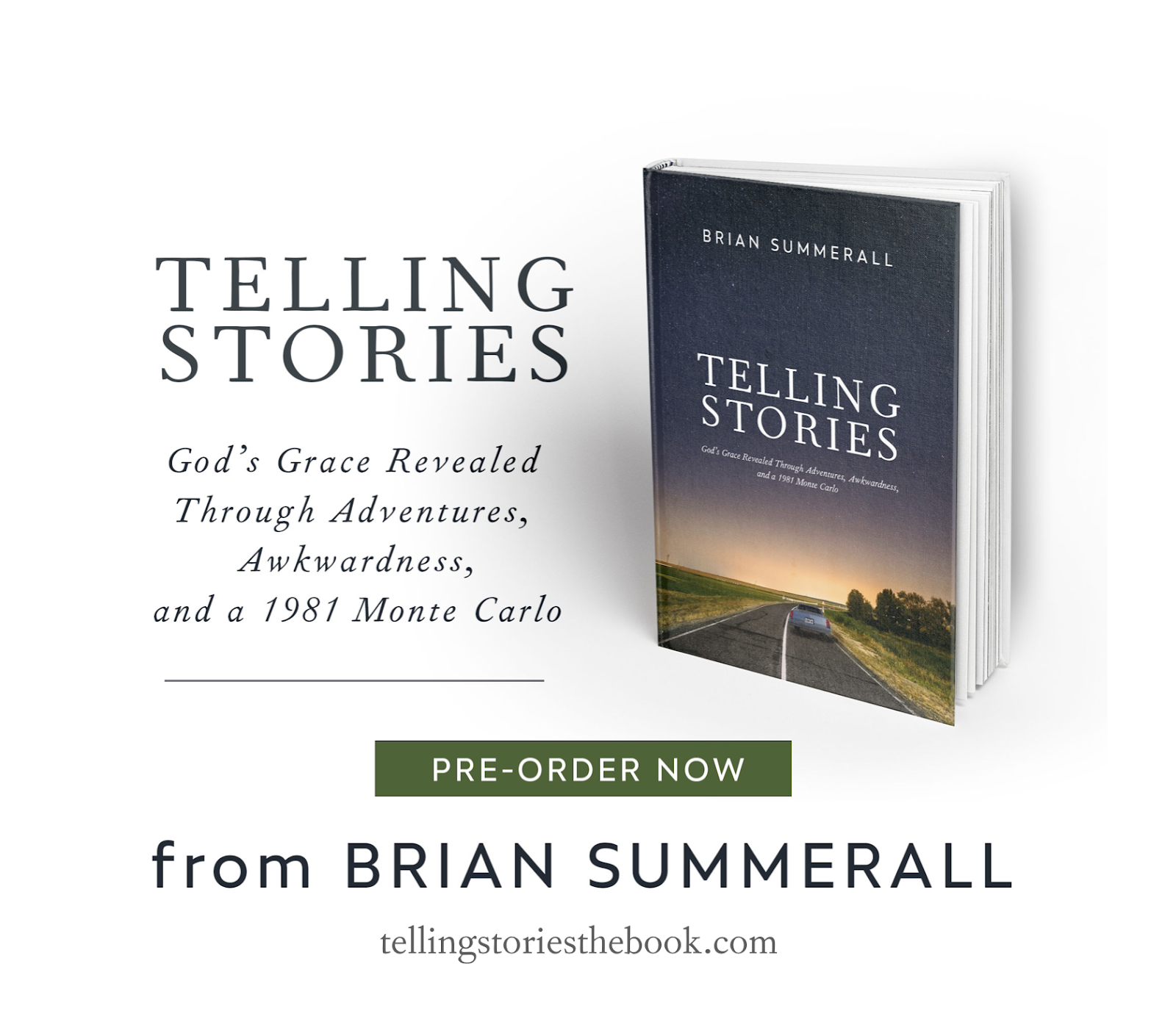 Looking for the perfect Christmas gift for Young Life Committee, leaders, and donors?
Brian Summerall, Young Life's Director of Ministry Strategy, and 30-year staff veteran has written a new book that you can ORDER HERE.
You can also find out how to win one of 10 free copies below!
"Telling Stories: God's Grace Revealed Through Adventures, Awkwardness, and a 1981 Monte Carlo."
Young Life staff can now preorder the book in bulk (10 or more) for $10 each at www.tellingstoriesthebook.com! (hardback, 206 pages)
About the Book
This is a book of stories that are telling in what they reveal about God, all told by a master storyteller. Brian's tales of late-night dorm raids, college probation, high school awkwardness, and backstage passes will find you laughing. Others will bring you to tears. Whether they are stories of family, fame, adventure, pain, loss, miracles, or relationships, all of these stories reveal a God who is extravagant in His love for us.
As Brian says, "I'm praying that as you engage in these stories that life-changing decisions will be made. God decisions. Do me a favor. Pick up the book. Find a quiet place to read. Let me tell you a story."
You'll be glad you did!
"I had the great privilege of editing and publishing "The Diaries of Jim Rayburn" and "Letters to a Young Life Leader" by Bob Mitchell. I am happy to add "Telling Stories" by Brian Summerall to that list. As a former staff person myself I know "Telling Stories" will be a great gift for leaders, donors, committee, and even kids. Brian wrote it with a general audience in mind — but since Brian has been on staff for decades, it has a real Young Life sensibility to it.Giving this book to someone is like giving them a little bit of Young Life." – Kit Sublett, Whitecaps Media
For bulk orders of 10 or more, email Kit Sublett at orders@whitecapsmedia.com or go to www.tellingstoriesthebook.com and fill out the bulk order contact form.
WIN A FREE COPY
The first 10 people who post a copy of the "Telling Stories" jpeg above and tag Brian Summerall on Facebook or on Instagram (@briansummerall) will win a free signed copy!