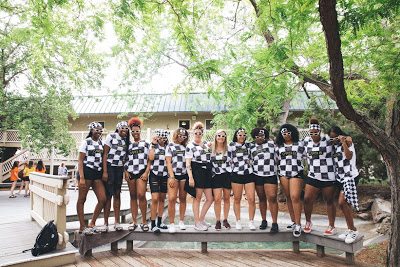 Written by Caitlin Stowe, YL staff in Portland, OR.
I would describe our camp week as one that felt like Hell, but was really just what it looks like when Heaven comes to Earth.
Pictured here are many of the beautiful faces we had the honor to take to camp this summer with Portland Central. I have come to love all of them deeply, but let me tell you, they were my enemies for that week at camp.
"But I say to you who hear, love your enemies, do good to those who hate you, bless those who curse you, pray for those who abuse you. To one who strikes you on the cheek, offer the other also, and from one who takes away your cloak do not withhold your tunic either…If you love those who love you, what benefit is that to you? For even sinners love those who love them. And if you do good to those who do good to you, what benefit is that to you? For even sinners do the same. And if you lend to those from whom you expect to receive, what credit is that to you?
But love your enemies, and do good, and lend, expecting nothing in return, and your reward will be great, and you will be sons of the Most High, for He is kind to the ungrateful and the evil. Be merciful, even as your Father is merciful."
– Jesus, Luke 6:27-36
This camp trip was the hardest week of camp I have ever been a part of.
Our kids were highly disrespectful, fights broke out, camp staff was at a loss for how to love and lead our kids, and leaders from our area were exhausted from constantly being on alert. Even the kids that were attempting to be engaged in camp were consistently being distracted by others, and it just felt like a week that would never end. I knew God was there, but by the end of the week, I was starting to wonder if He was actually there for our kids.
I have never felt more emptied out in my life then at the end of this camp week. And when I reflected on that once I got home, I ran across that scripture from Luke above. I realized, while most camp weeks involve sacrificial love (sacrificing your time, comfort, energy, and emotional support), they have typically always been with kids that love me back. They may not love me in the same way I love them, but they have always trusted me, had fun with me, engaged with me and wanted me around. While there were moments when it was heavy or tiring to love them, there was always some element of it being easy.
My girls (and the guys) from this summer respected me, but it was apparent trust was hard to come by. They did not always want me around. They would lash out in anger towards me, turn cold on me abruptly, and were just generally so selfish with their emotions and actions. I felt like I had emotional whiplash from the mood swings they would have with me. There were very few moments at camp where love came easy. Well – let me clarify. Having a deep love for these kids came very easy and very fast for me (thanks to the Father's love in me), but living that love out was a different story. Choosing to turn the other cheek and take another hit, knowing another hit is almost certainly going to come, is exhausting. Giving and lending to someone you are positive will not be giving anything back to you, gets tiring. Doing good to someone who doesn't acknowledge your presence for half of the day is discouraging.
Yet, that is what Jesus does with me every day. That is how Jesus loves these kids every day. And I had the privilege to live that out for one short week. It was the hardest week of camp I have ever had because I have never had people in my life that are harder to love. And I have never had people in my life that I desperately want to fight for harder; fight for them to come to know True Love and hope.
This is what it looks like when Heaven comes down to earth, when God's love tangibly meets a reluctant heart; it is messy, yet so beautiful.
"We have lost count of the number of times before our summer events begin where we have found ourselves pacing up and down, feeling out of our depth, and saying something like, "Lord, save us, it feels like we're drowning." Inevitably a few weeks later we are rejoicing and telling stories of His kindness, His power and His love. Each time we have known the intimacy of tightly holding his hand and seeing miracles happen." – Mike Pilavachi (Everyday Supernatural)
As leaders, being as emptied out as we were, we had nothing left to offer kids of ourselves. We were spent. So if we were going to continue on, we would have to rely on Jesus' strength and love. We were desperately and humbly dependent on Jesus, and we knew any good that came from this week was all Glory to God. There was deep intimacy there, holding His hand, and getting to simply trust He would show up.
And He did!! Many kids came to accept Jesus as their Lord and Savior at camp! And many kids felt more wanted then they have ever felt before, and more known. God's love was good. And He was there for our kids.
Lydia accepted Jesus as her savior for the first time at camp, Mavis had this picture of Jesus as a fanatic criminal debunked and marveled at his love for her, Nya comes from a Catholic background and for the first time understood Jesus actually wants a relationship with her, and Anna's story I'm going to dive into a bit more. She comes from a family that is not religious, and at camp she informed her leaders she was not there for the Christian stuff, but just wanted to have a good time. At the beginning of the week, she greatly missed her phone, missed her friends, but was set to make some memories at camp. She made tons of new friends, had multiple camp crushes, and even asked one of them out on a date to the snack shop at camp. However, during cabin time, she never engaged with the "religious questions," continuing to say she was not there for that. During her one-on-one with a leader, when the conversation turned too deep, she always seemed to derail it back to the shallow things of life. Day 7 rolled around, it was time to go home, and she was sad to leave all her new friends, but from a leader's perspective, it seemed like a week she never gave God a chance to show up. This is how we felt about most of our kids this summer.
Two days after being home from camp we had a camp reunion at a park in Portland. Anna showed up that night, and her leader asked how being home was. She said fine. Morgan (her leader) asked how having her phone back was? She said fine, she hasn't really been on it. Morgan dug a little bit as to why that was. Anna said she hasn't really been talking to her old friends, "they just don't get it." Morgan dug a little more, "they don't get what exactly?" Anna responds, "Ya know, I just think camp was a pretty life-changing experience, and it is hard to talk about with people who weren't there with me. I've mostly been hanging out with friends from camp." "Oh, what was life changing about it?" "Ya know, I think it is a pretty life-changing thing when you get to talk to the true and living God."
What?! She did not talk about any of this all week, yet once she gets home, she can't deny what really made the week great for her. It was her encounter with God! AMEN!
This is just one of many stories we have heard since being home from camp of how God showed up in radical ways that we just weren't getting a glimpse into at camp.
Camp was full of all of the Lord's joy, love, and hope as years before… it was just a little harder to recognize this year.
I am so thankful for these kids that are in my life.
Please continue to pray for them. That they would continue to fall more in love with Jesus. Pray for leaders. That we would continue to be filled up with Jesus' love to then pour out on these kids. Pray for the summer in Portland. That life to the full could be found here; that hope could be found here in Christ.
If you have a Young Life story to share, email us here.