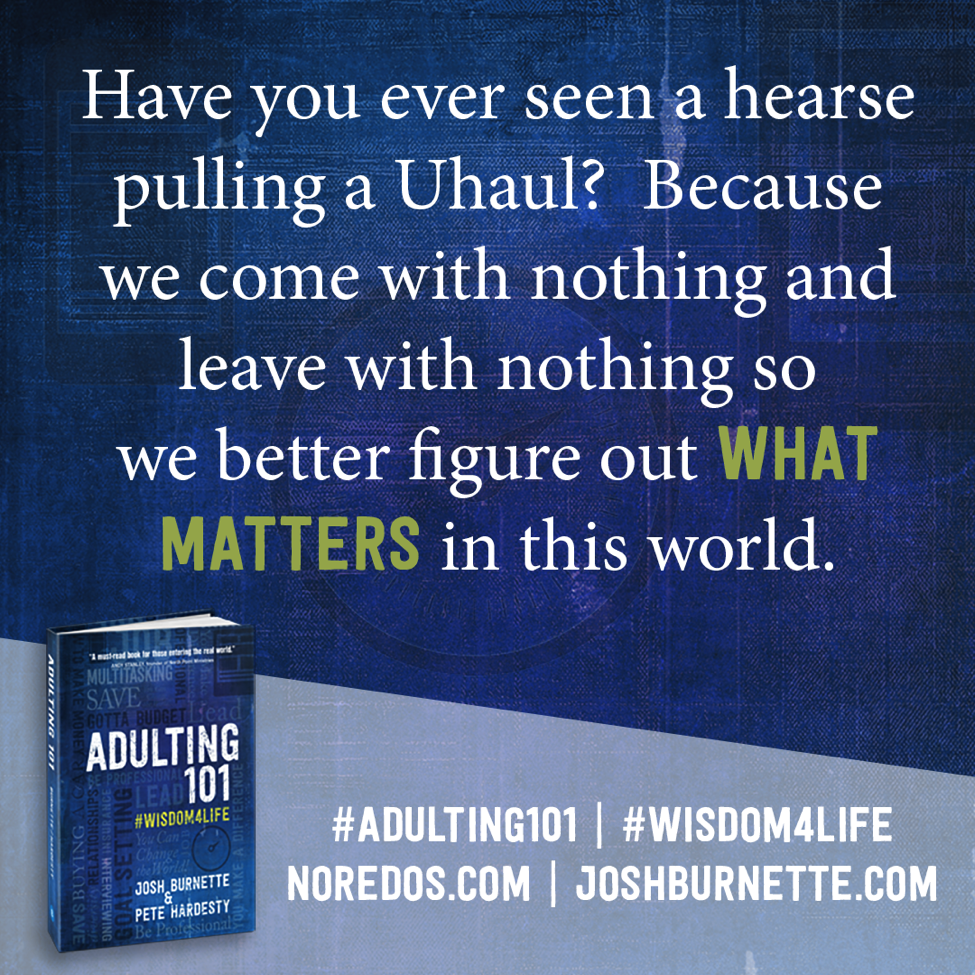 Written by Pete Hardesty, Young Life College Eastern Divisional Coordinator.
Today, my dear friend (and former Young Life staff/leader) Josh Burnette and I are releasing our new book, ADULTING 101. It's everything you should have learned in school but didn't. It is basically a senior real life wisdom course. We discuss professionalism, sex and dating, money, meaning in life, time management, and much more! We go into more detail about the daffodil principle covered below as well.
In her book, The Daffodil Principle: One Woman, Two Hands, One Bulb at a Time, Jaroldeen Asplund Edwards tells a story that happened about 75 miles outside of Los Angeles:
"We turned onto a small gravel road and I saw … a sign that said, "Daffodil Garden." … Before me lay the most glorious sight. It looked as though someone had taken a great vat of gold and poured it down over the mountain peak and slopes. The flowers were planted in majestic, swirling patterns-great ribbons and swaths of deep orange, white, lemon yellow, salmon pink, saffron, and butter yellow … five acres of flowers.
A sign hung … "Answers to the Questions I Know You Are Asking."
"50,000 bulbs," it read.
The second answer was, "One at a time, by one woman. Two hands, two feet, and very little brain."
The third answer was, "Began in 1958."
There it was, The Daffodil Principle. … This woman whom I had never met, more than forty years before, had begun— one bulb at a time—to bring her vision of beauty and joy to an obscure mountain top. Still, just planting one bulb at a time, year after year, had changed the world. … She had created something of magnificence, beauty, and inspiration."
We in Young Life live by this principle.
We continue planting seeds when it is difficult to see progress or growth.
We continue to go up to the school when it feels like no one is on our side.
We continue to believe that God is building something beautiful in every kid that we meet. Sometimes it takes a while.
Sometimes it is painful.
And sometimes we don't get to see the "finished product."
But if you love kids long enough, you will begin to see a "vat of gold" poured over their lives. Kids will surprise you with a text, or a facebook message, or a note that you can treasure forever. Everyone has greatness within them. The challenge is drawing it out. Or sticking around long enough to see it.
Here are a few selections from notes I've gotten this last year:
"You believed in me and saw strengths and abilities in me that I did not know I had."
"I decided to follow Jesus a couple weeks ago at church."
"Thank you for seeing potential in me…"
"Where would I be without you chasing me down my freshman year?!?"
"You always held me to a high standard and pushed me to grow and deepen my relationship with Christ and others."
Utilize the daffodil principle. Here's to chasing kids down to serve them. One action done repeatedly and faithfully can make a tremendous difference. Little things done over and over can become big things. Be faithful in the small things. Then watch over the long haul as you accomplish great things.
Take my friend Bill for example. He is not a wealthy man, but he is very wise. Bill wrote me a letter every month starting when I got out of college—full of encouragement and wisdom, and a check for $50 to Young Life. Do you know that before he had to stop writing because he turned 90 and was unable to write anymore, he had given over $10,000! Not to mention hundreds of letters dripping of wisdom and insight which were worth far more than that! His faithfulness has been an incredible picture to me.
This principle works with money. It works with relationships. It works with people. If we will be faithful, then a little, over a long time, can be a lot.
KEEP GOING. KEEP PLANTING THE SEEDS. GOD MAKES THEM GROW. Thank you for going. Thank you for planting seeds one at a time. Thank you for changing the world.
Buy it here: ADULTING 101.