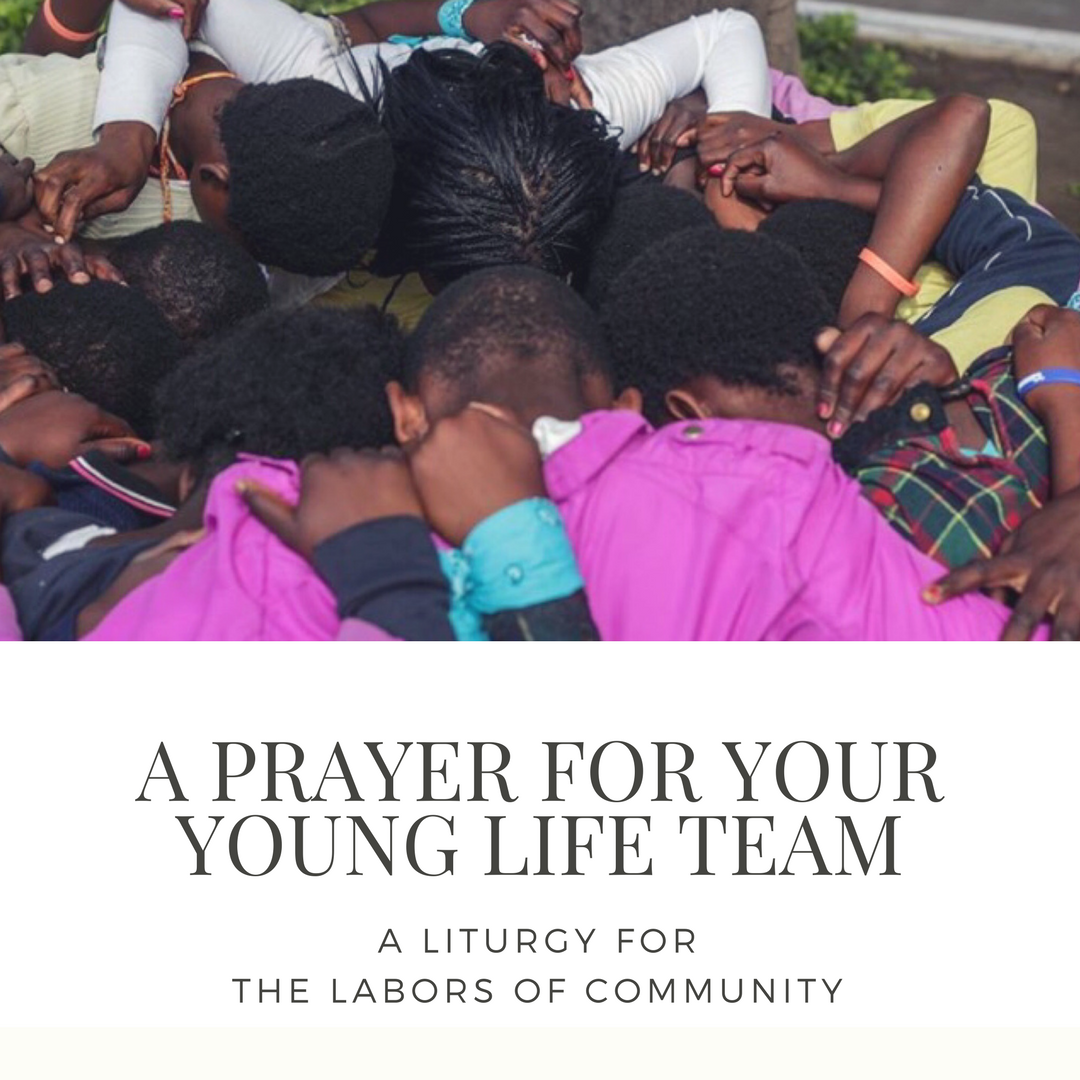 I recently came across this beautiful prayer from an upcoming book called "Every Moment Holy" by Douglas McKelvey.
It reminded me of something our Young Life teams could use to help us pray together before club or contact work.
Designate a leader to read the non-bolded words and the rest of the team can pray aloud together using the words in bold.
A Liturgy for the Labors of Community
Our lives are so small, O Lord.
Our vision so limited.
Our courage so frail.
Our hours so fleeting.
Therefore give us grace and guidance
to invest our moments and our gifts
towards those ends which are eternal.
We are gathered here because
we believe that we are called together
into a work we cannot yet know the fullness of.
Still, we trust the voice of the One who has called us.
And so we offer to you, O God, these things:
Our dreams, our plans, our vision.
Shape them as You will.
Our moments and our gifts.
May they now be invested towards bright, eternal ends.
Richly bless the work before us, Father,
giving grace lest we grow enamored
by our own accomplishment
or entrenched in old habit.
Instead, let us be ever listening for Your voice,
ever open to the quiet beckonings
of Your Spirit in this endeavor.
Let us in true humility and poverty of spirit
remain ever ready
to move at the impulse of your love
and in paths of your design.
You alone, O God, by your gracious and life-giving Spirit
have power to knit our imperfect hearts,
our weaknesses, our strengths, our stories and our gifts, one to the other.
Unite Your people
and multiply our meager offerings, O Lord,
that all might resound to Your glory.
May our acts of service and creation,
frail and wanting as they are,
be met and multiplied
by the mysterious workings of Your Spirit
who weaves all things together
towards a redemption more good and glorious
than we yet have eyes to see, or courage to hope for.
May our love and our labors now echo
your love and your labors, O Lord.
Let all that we do here, in these our brief lives,
in this our brief moment to love,
in this, the work you have ordained for this community,
flower in winsome and beautiful foretaste of still greater glories yet to come.
O Spirit of God, now shape our hearts.
O Spirit of God, now guide our hands.
O Spirit of God, now build Your kingdom among us. Amen.