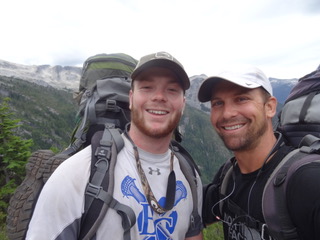 Written by Zach Gurick, Metro Director for Young Life in Soutwest Florida.
I remember feeling totally spent, like I had nothing left to give. I had poured out everything I had… It was a feeling of deep weariness, more than just tired. I discovered one of the issues was that I didn't have someone else pouring into me!
You'd think as YL leaders, we would know firsthand the necessity of a mentor—someone slightly further along the path of life that we can emulate and learn from. But far too often we spend all our time and energy being the mentor and role model for young people. And instead of investing in our own spiritual lives, we stagnate. Get a mentor!
This mentor can be a spiritual director, a counselor, a pastor, a church member, someone on the local YL committee, a business person in your town, or a parent of a student you know. It all depends on what you need.
Let's be clear, though—you need this person in your life! If you aren't growing personally, your life and ministry will, without question, eventually reflect this. As YL leaders, we are constantly pouring ourselves out. We desperately need to find people that are going to invest in us if we are going to continue to give ourselves away in ministry.
So how do you find a mentor?
About ten years ago I was challenged to make a list of the top 5 people I would ask to mentor me if I could ask anyone. I wrote down the list, mustered up some courage, and typed in the phone number I'd received from a friend for the person at the very top of my list. I'd only briefly met him once before and didn't think he'd even remember me. A few minutes later, I had a new mentor.
Come to find out, people with a lot of wisdom are often looking for ways to share it, and younger people to invest into… A few days later, I showed up at my new mentor's house and found out that many years before, he'd been mentored by an older, wiser man who was a little further down the road than he was, and it had been one of the most meaningful relationships of his life.
To this day, my mentor speaks life into me, and I have so much more to give away to those that I lead. He is a close confidant and has walked with me through some very trying and difficult times. We've celebrated many joyous occasions as well. When we meet, we mostly talk about Jesus, and life, and what we're learning. Pretty similar to what you and I do with kids all the time!
So, my friends, why not sit down now a make a list of 5 people that you know of that you could ask to mentor you? I'd be willing to bet that you will be pleasantly surprised after making a couple phone calls just as I was!
Some of my friends and I wanted to get some ideas like these out for leaders like you, so we put together an e-book with a bunch of tips that we've found helpful over the years. You can find it free at kindredyouthministry.com. We hope it's helpful for you and your ministry! – Zach