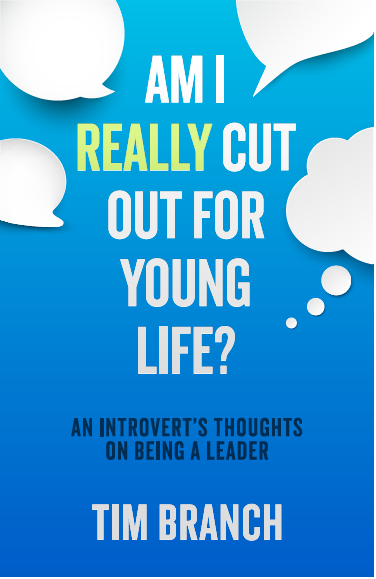 [This is an excerpt from my friend Tim Branch's new eBook for Young Life leaders. You can download the book for free by clicking here.] – Drew Hill
Let's say you're a leader on a team of twelve other leaders. Your club has about 100 people coming on a weekly basis. You have friends from the school, but none of them actually come to Young Life.
Are you doing something wrong?
Let's say all the other leaders on your team have Campaigner Bible studies with their high school friends, but you don't. You're the only person on the team without a Bible study going. In fact, the kids you hang out with wouldn't be caught dead within 200 feet of a Bible.
Is there something wrong with you?
Let me tell you about my experience during my first two years leading Young Life:
I knew about 50 kids. Less than half of them would talk to me for more than 20 seconds, and only like three of them would hang out with me.
I got turned down so many times to hang out, you'd have thought I was offering them tickets to a Nickelback concert.
But those three guys…I had some great talks with them. Really cool talks. We talked about real life and hardships. We even talked about Jesus.
But I looked at other people on my team who were hanging out with massive amounts of people. My ministry didn't look anything like that.
Was I a failure?
I sure thought I was. All I wanted to do was spread the Gospel. But I felt like I wasn't doing a good enough job because of the numbers.
God got a hold of me at one point. He used Ezekiel 2:4-8 to show me the problem:
"The people to whom I am sending you are obstinate and stubborn. Say to them, 'This is what the Sovereign LORD says.' And whether they listen or fail to listen— for they are a rebellious house—they will know that a prophet has been among them. And you, son of man, do not be afraid of them or their words.
"Do not be afraid, though briers and thorns are all around you and you live among scorpions. Do not be afraid of what they say or terrified by them, though they are a rebellious house. You must speak my words to them, whether they listen or fail to listen, for they are rebellious. But you, son of man, listen to what I say to you. Do not rebel like that rebellious house; open your mouth and eat what I give you."
The problem wasn't in the results. The problem was the way I was measuring the results.
So I had to go back to the drawing board. What does success mean, if it doesn't mean having a Bible study group after a year, or having 300 high school friends who are excited to see me when I walk into the school?
The answer: Success = Obedience.
That's all. All you have to do is say yes and go. Yeah, results are nice. But they're nice because they give you a sense that you haven't wasted your time.
But whether or not you end up with results, your time is not wasted. It's not your fault if you obey and give and love and nothing happens. And it's not your glory if every- thing happens.
That's why it doesn't matter what your ministry looks like on the outside. All that matters is that you've said yes, that you're willing to give, and that you are going to do what you think God wants you to do. Then you've met all the requirements. You did it. Well done, good and faithful servant. –Tim Branch