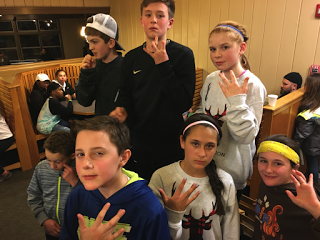 Written by Bekah Siau, Area Director with YL Military at West Point, NY
Have you ever looked at the chaos in your WyldLife cabin at camp and thought, "I'm supposed to have cabin time now? And with this crew?"
You're not alone. I too know the feelings of unpreparedness and helplessness! How do we process the greatest message ever shared with our middle school friends in the midst of the chaos?
Give Yourself Grace
No one has it all figured out or is fully prepared to lead through every challenge that a week of Wyldlife camp will present. It isn't all up to you. Rely on and allow space for the Holy Spirit to work.
Battle Buddy
Make sure you have a battle buddy! Get to know your co-leader, then lean on, support and encourage each other. Do everything you can to pray with and for each other and your students before and during camp.
Allow Emotion
Acknowledge your students' feelings. Sometimes different illustrations stir up emotions in kids, and they don't fully understand why it evokes an emotional response. They might not know why they are crying or angry, and it might not seem relevant to the club talk at all, but we have to deal sensitively with their feelings first. Help them put a name to their feelings whenever possible: frustration, anger, fear, sadness, hurt, rejection, regret, remorse, etc. Address the emotions and then help them understand what the speaker was trying to convey.
Speak Life
Their big question is: "Do you like me?" They are sensitively aware of any feelings of rejection or disgust from others. They need sincere and positive affirmation every day. They need encouragement to try new things. This goes a long way in "earning the right" to be heard with them. The best way to communicate the gospel to them is to BE the gospel, to show them!
Short & Sweet
Keep cabin time concise. I like doing "highs and lows" but it takes forever with middle school girls. Instead, save it for the end of the night instead of during cabin time. Each girl climbs to the top bunk with her bunkmate and shares highs and lows of the day. (For boys, you might need the structure of sharing highs and lows at the beginning of cabin time to get conversations started.)
Patience
Know that it is probably really uncomfortable for a middle school student to have conversations about what they believe about life and Jesus. It might be the first time that any of them have ever even thought about God. Acknowledge this fact with them. It might be pretty normal that they repeat what you or someone else said. They might not be able to verbalize their own thoughts or opinions yet. They are very much in a period of trying on faith and belief. Be patient and understanding with them in this.
Understanding
Students should be invited to consider a relationship with Jesus, but you should also ask them questions to help them fully understand what that means for them. Students their age can be easily persuaded by adults. Please be extremely sensitive to this! Our goal isn't for every student to go on the New Believers Walk. Our goal is for students to know and experience God's love for them and to understand that He created them for a purpose and desires to have a relationship with them. Then we let them consider how to respond to that! Don't underestimate the work of the Holy Spirit in bringing clarity and understanding of the gospel to students!