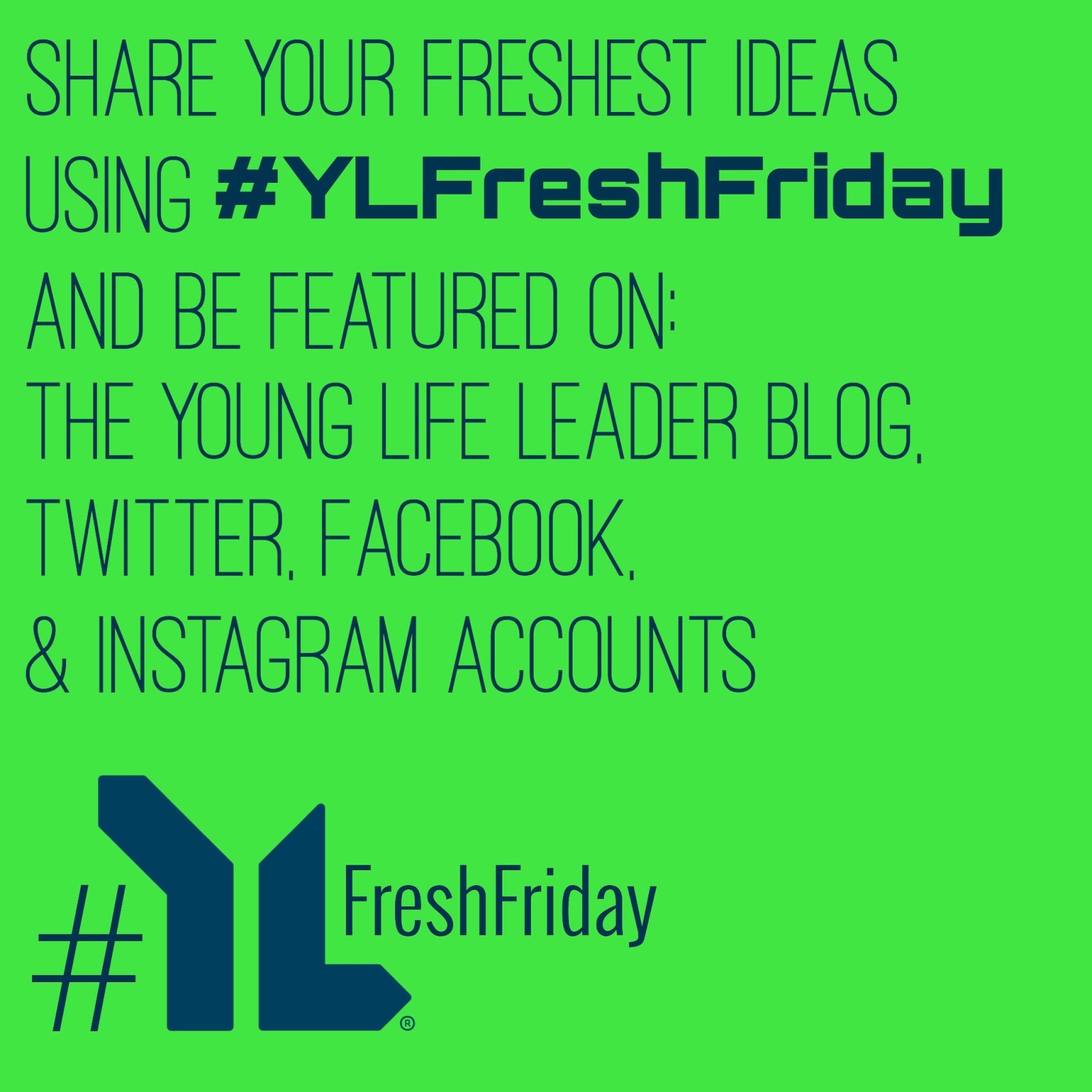 Two years ago we started #YLTeamTuesday. Since then thousands of you have shared pics of your YL teams, many which have been featured every Tuesday on the @YoungLifeLeader Twitter and Instagram accounts.
This semester we're adding another chance for you and your YL friends to be featured: #YLFreshFriday.
We're looking for new ideas to share with thousands of Young Life leaders around the world.
Below are some fresh ideas to get you started. Think outside the box. Young Life people are known for their creativity! Who knows, your idea could be used in hundreds of Young Life clubs next week?!
Post any day of the week and use the hashtag #YLFreshFriday. You can also email us your ideas here.


Each Friday we'll post some of the best!
YL T-shirt Ideas
Post a pic of you and your friends sporting your freshest YL t-shirt design
New Club Songs
Post a video of your club singing
Email uschords and slides
Post a pic of the name of the song or the song lyrics
Fresh Club Games/Skits/Mixers
Video of the game happening at club
Instructions on how to play
Live action photo
Contact Work Ideas
You decided to have a spontaneous shaving cream fight in the school parking lot
You got filet mignons delivered to the school cafeteria
You threw a YL flavored Pinterest Party
Cutting Edge Campaigners
A unique and memorable Campaigners activity
A pic of Campaigners being held in an unusual location
A video clip illustration you showed your group
Fresh Resources
An article you read that would be great to share with other YL leaders
A movie you saw/book you read that's worth passing along
What other new ideas can you pass along?
Post using the hashtag #YLFreshFriday on any day of the week. Then be sure to check social media on Fridays to see if your idea was reposted.