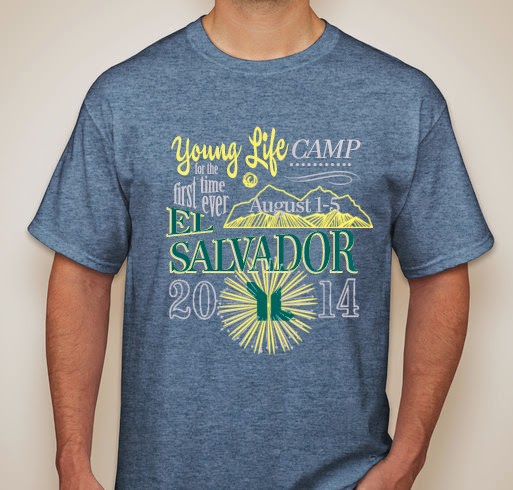 A Guest Post from Jesse Papirio.
History is being made this summer August 1st – 5th when El Salvador will be running its first ever Young Life camp. The first one will set the stage for the future. Teenagers will leave their homes and go into the hills outside San Salvador to encounter Jesus as never before.
Help us be part of the first ever Young Life summer camp in El Salvador. You can be a part of history in the making by purchasing a t-shirt to help fund a week of camp for teens in El Salvador!
Last April I got to sit with Enrique, the director of YL in El Salvador as he shared stories of the incredible things the Lord has done in the city of San Salvador since YL was established just a few years ago. He shared with us his vision for running the first YL camp ever in his country and we got to dream with him about how this could change the lives of kids and what it could mean for the future.
Who doesn't love an awesome Young Life t-shirt? Especially one with so much meaning and impact?? We are raising money to purchase 6 tents, sponsor 6 campers from a rural village (who would not otherwise be able to attend) and send 7 work crew/staff to be at the camp from August 1st – 5th.
Please consider helping us reach our goal of selling 150 shirts and be a part of what the Lord is doing to share his love with the world!
Click this link to get your shirt today!
"Look at the nations and watch—be utterly amazed. For I am going to do something in your days that you would not believe, even if you were told." ~Habakkuk 1:5