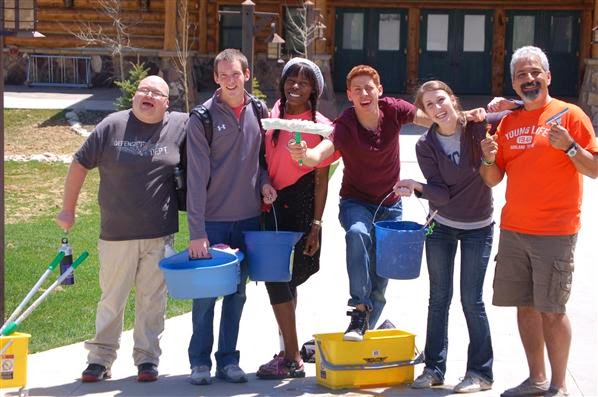 In college, some friends and I had a tradition of celebrating the end of exams with a trip to Windy Gap Work Week! During those weeks we made a ton of new friends and had the privilege of helping prepare the property for the thousands of high schoolers who would shortly arrive for summer camp! We did all sorts of glamorous tasks:
replacing volleyball court sand
scraping gum off of the under-side of dining hall tables
pouring new sidewalk cement
painting benches
making frisbee golf holes
building fences
planting flowers
etc…
Last summer I took my Campaigner group (Senior guys who had just graduated from high school) to Carolina Point Work Week in June. It was a laid back time to be together, make memories, and serve. We started each day with the typical and amazing Young Life style breakfast, worked from 9-12, broke for lunch, and worked again from 1-4ish. After the 6-7 hour work day we played fris-golf, octo-ball, jumped in the lake, cleaned up, and ate dinner with a bunch of new friends from all around the southeast. In the evenings we had club. David Haskins spoke of Jesus and PW Gopal lead us in worship. It was such a sweet three days!
If you've never been to a Young Life Camp Work Week, maybe this is the summer to begin a new tradition? Take your old Campaigners group who are now in college. Go with a group of leaders from your area. Grab some friends who maybe aren't yet involved with YL, but would love a chance to serve. You don't need any special skills and it's FREE! Plus…..YOU GET ANOTHER YOUNG LIFE T-SHIRT! What more motivation do you need?
Here's a video from Castaway Club about their Work Week!
And another video from Frontier Ranch!
Castaway Work Week Promo from Castaway Club on Vimeo.
Below are links to sign up for Work Weeks at Young Life Camps all around the US.
Washington Family Ranch, April 11-13