This guest post is written by Erin Green, a junior at the
University of Texas and a Young Life leader at McCallum High School. Erin just finished her first summer as a
backpacking guide at Young Life's Wilderness Ranch. You can find her blogging at Likewaterthesea.tumblr.com.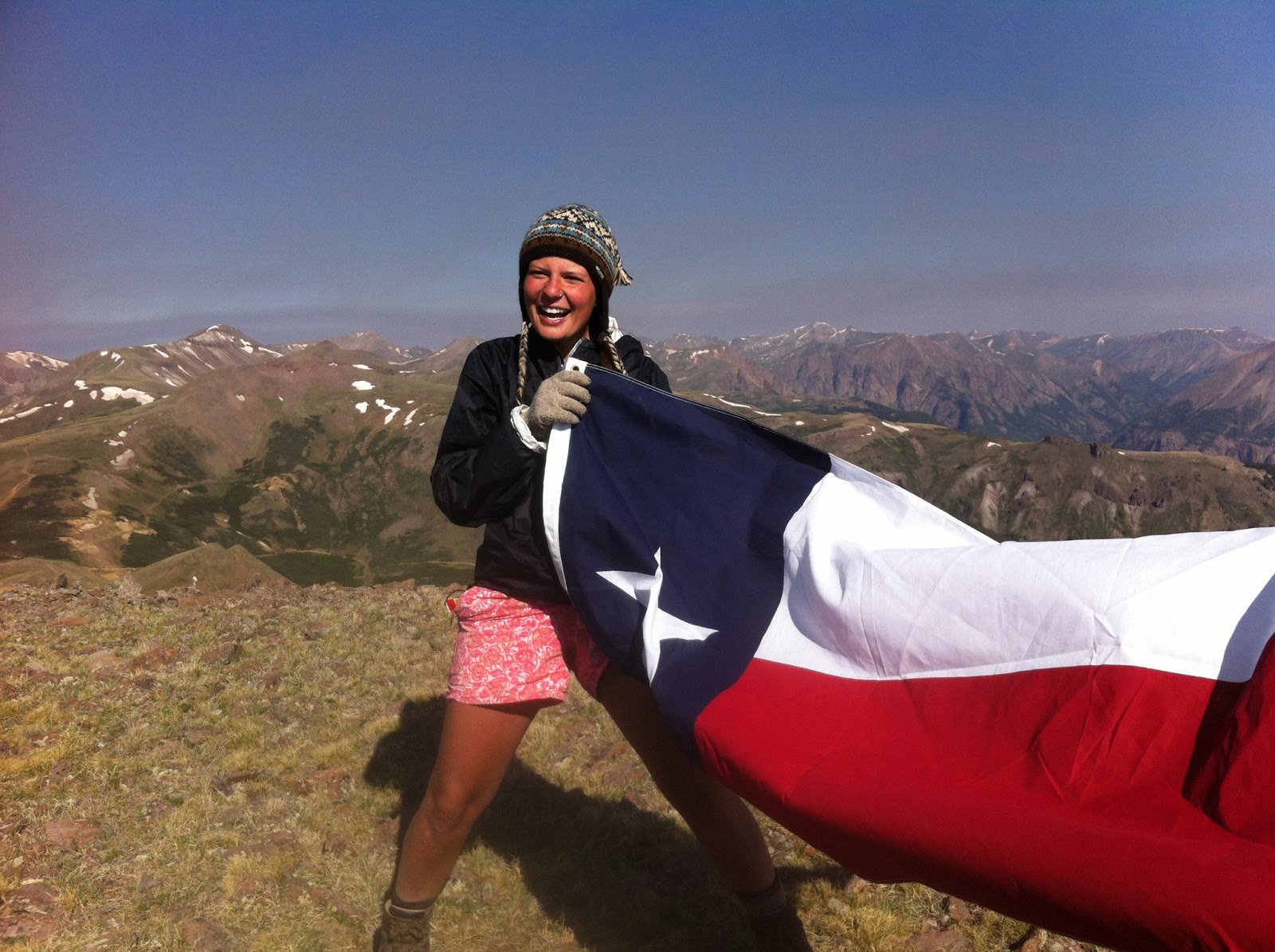 This past month has been filled with more trials than I've ever faced. More tears, more joy, more
physical exhaustion, more spiritual warfare than I knew was possible. A roller coaster of emotions that I have yet
to get off. And yet, I'm more at home
than I've ever been.
From the day I started my application, my biggest fear about
being a Wilderness guide has been passing the running tests. It was the reason that I didn't apply to
guide until the last minute and the cause of so much anxiety leading up to the
fateful day that I would finally be tested.
I'm not a runner. I
am many things, but athlete has never been on that list. Running is really hard for me, and something
that I have always avoided. I don't like
failing at things. I was raised in a
culture in which my strengths were strengthened and my weaknesses were avoided,
and I fled from activities that didn't guarantee success. Pride came before growth. And so running was quickly put on that list
of things Erin doesn't do. Until five
months ago, when Lisa Ismert called to tell me that I'm a guide at Wilderness
Ranch, and I needed to start training.
And so it began.
I spent months in preparation, running, reading
mountaineering textbooks, answering pages of questions, and buying hundreds of
dollars worth of gear, all with the knowledge and fear in the back of my mind
that there was a possibility I wouldn't be able to pass the runs, and I would
be sent home. Every time someone asked
me if I was excited to be a guide, I would respond with something along the
lines of "I'm not a guide yet…." I
wanted to be a guide more than anything.
And I was terrified of failing and being sent home.
But God is faithful.
I made it through ten long and tiring days of trail
training, and returned to base camp knowing what laid ahead. The first time I ran the two mile course I
stopped a quarter of the way in, experiencing the first of many anxiety
attacks. If running is hard for me,
running and crying at the same time is impossible.
Each run seemed to get more and more impossible, and the
lies from Satan became louder. There
were moments when all I could hear were the attacks of "you can't do it," "you
should just go home," "you're not good enough," and "you will never be a
guide." And each time, I became more and
more disheartened.
But I never ran alone. For each impossible step, Christ ran with me. And for each time I tried to quit, He had
someone pull me back up.
It took me five attempts to pass the five mile. That's twenty extra miles. And at each mile, there were brothers and
sisters in Christ praying for me, speaking scripture to me, telling me stories,
and physically pushing me. I never
believed that I could do it, and they never believed that I couldn't.
I will never forget the moment that I passed the five
mile. Just the thought of it brings
sweet tears to my eyes. I had ran that
course four times before, each time ending in disappointment and tears.
But this time was different. The entire guide team ran with me.
Everyone else had long since passed these
tests, but we weren't done until everyone had passed. And that was just me. So being forced to swallow my pride and
embrace my new found humility, I ran.
Alongside twenty other guides, I ran. Nick told me stories. Jane prayed
and spoke such sweet and good truth to me.
Zach held my hand and pulled me.
Hands were on my back and the lies in my heart were being replaced by
truth. I was doing it. I could do it. For the first time, I chose to
believe what Christ said. He said He
would never leave or forsake me, and that I can do all things through Him. He said that He was faithful. That He sustains. And I believed Him.
I ran across that finish line to my family and
collapsed. I cried tears of joy, tears
of praise, tears of humility, as I heard my time announced. 52 minutes.
We had shed 8 minutes off of my time, and I passed.
With my family behind me and my family
rejoicing with me at the finish line, I passed. We ran the two mile the next day, and yet again, Christ
proved His power and I passed. With my
family beside me, behind me, and waiting for me at the finish line, I
passed. And in that moment that I ran up
the final hill and crossed the finish line, collapsing to the ground, I knew
that I was a guide. No more what if statements. No more questioning the rest of my summer. No more questioning what I
was capable of. I was a guide. And in two days, I would take out my first
trip on trail.
I knew that I was a guide, and I knew that no credit was due
to me, but all to Christ. He
strengthened and sustained me in impossible ways. The first time I ran the two mile course, I
ran it in 24 minutes. Two weeks later, I ran it in 17 minutes and 33 seconds. That's not to my doing.
Never before have I experienced such a tangible
representation of the Gospel and of true community. We are one body, and we function as one. We run as one. We bear each others burdens. We are the living embodiment of Christ's
truth, and we speak that to each other.
And Jesus runs with us. Behind
us, before us, next to us, and at the finish line. Every step of the way promising to love us,
to push us, to pull us back up when we fall, and to give us grace when we need
it. He runs next to me, holding my hand,
asking me to give up control and allow him to do this for me. And He always proves faithful.
At the end of my life, when I cross that finish line, Jesus
will be there, waiting to embrace me, waiting for me to collapse into His
arms. I will have made it there not on
my own accord, but because of what He's done for me. And in that moment, collapsed into Jesus'
arms inside the gates of Heaven, clinging to his chest like a little girl in
the warm, safe embrace of her father, sobbing tears of joy into His strong
arms, all that I will know is joy, all I will know is praise, all I will know
is that I'm there. I made it. I did it.
I'm with Jesus. And the race has
been won.
He gives power to the faint, and to him who has no might he increases strength. Even youths shall faint and be weary, and young men shall fall exhausted; but they who wait for the Lord shall renew their strength; they shall mount up with wings like eagles; they shall run and not grow weary; they shall walk and not faint. Isaiah 40:29-31
Therefore, since we are surrounded by such a great cloud of witnesses, let us throw off everything that hinders and the sin that so easily entangles, and let us run with endurance the race that is set before us, fixing our eyes on Jesus, the author and perfecter of our faith, who for the joy set before him, endured the cross, scorning its shame, and sat down at the right hand of God. Consider him who endured so much opposition, so that you will not grow weary and lose heart. Hebrews 12:1-3
Thanks so much for sharing Erin! So encouraging.
If any of you would like to submit a guest post, here's how.