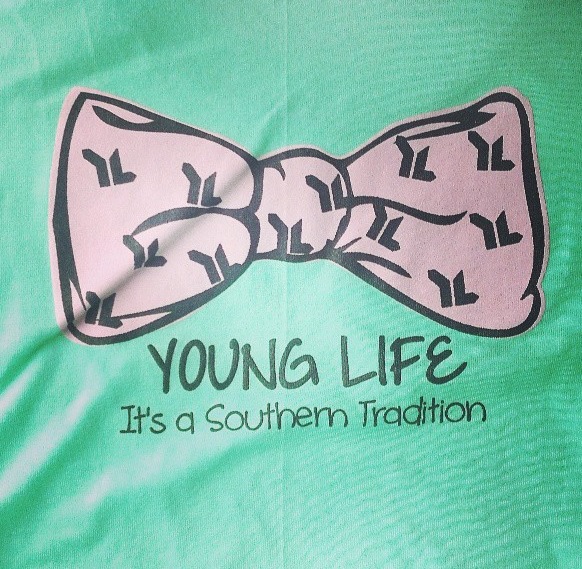 If you love Young Life t-shirts as much as I do, you're willing to make one for any and every occasion. Part of the problem, though, is that it can be a lot of hassle! Collecting money from everyone, handing out shirts, ending up with way more unclaimed extras than you know what to do with. Well here's an answer…
When I was rummaging around the internet one day I happened upon Teespring.com, a site that advertised "crowd-funded apparel". Sounded like a good idea to me so I dug deeper and decided to give it a shot.
The design interface is pretty basic. That's the downside of using that versus your favorite t-shirt art guy. But, if you have artwork already, or are savvy enough to design it yourself, it accepts that too! Once you have that, getting your shirt printed is pretty straight-forward.
Choose a T-shirt Type
From an inexpensive shirt to an American Apparel shirt, and then choose the color.
Upload Artwork
Upload your own or design a shirt on the site.
Set A Goal
Choose the number of shirts you want to have reserved. This is key. Depending on the number you set for your goal will determine the price per shirt. The kicker is that the order won't print unless you each at least that number. One you set a number, it'll give you a price.
Set Your Selling Price
This will determine your profit. This is another thing that I really liked. It allowed us to make a little camp scholarship money by selling the shirt for a little more. One you set selling price, it will give you an estimated profit. Once the campaign is over, and shirts are printed, you can request a check.
Set A Time Frame
Choose how long people can reserve a shirt. Can be days or over a week. Gives you a chance to spread the word.
Describe The Why
This is a great place to talk about raising camp money and your vision behind selling the shirts.
Spread The Word
Tweet the link, email it out, or spread it however you'd like. We used Instagram. I made a little graphic with the art on it and a link. It has a graphic representation of how many shirts have been reserved so folks can see progress. People can reserve their shirt, put in shipping info, pay for it right there, and you never have to deal with a thing. You have the option of allowing people to have the shirts shipped to you, but I opted for the person by person delivery. Its a great way to make a shirt and everyone wins. If the people want it, it gets printed. If not, no loss to you or them. If the campaign doesn't print, everyone gets refunded.
Now get out there and make really great Young Life T-shirts! If you want an example, check out a past campaign of ours.
http://www.teespring.com/ylmontgomeryspring
Written by Chris Campos, YL AD in Montgomery, AL.