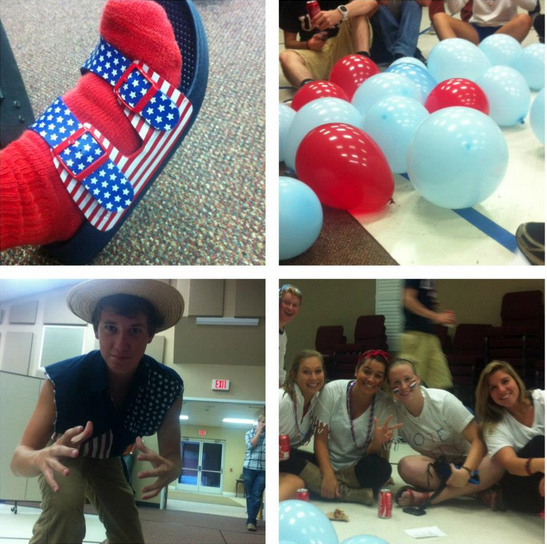 We opened the semester with 'Merica Club and it was a star-spangled success. Kids loved it. Below are some of the things we did. Feel free to borrow the ideas. Creativity is just forgetting where you stole it from.
'Merica Club Schedule
6:15- Pre-club dinner,prayer, run-thru
7:37- official start time
7:45-band enters, seniors prep sparklers
7:50- seniors form sparkler tunnel
7:51- crowd enters to Gangnam Style
7:53- Party in USA (Song 1)
7:57- Cheerleaders
7:58- Tonight Yes Tonight
8:00- Chicken Fried (Song 2)
8:04- Miss 'Merica/Captn 'Merica run ballon pop
8:08- Costume Contest- winner gets shirt
8:12- A'Merica Rap
8:15- Sweet Home 'Merica (Song 3)
8:18- 30 sec dance party
8:19- Springsteen (Song 4)
8:23- Girls wrestle for guys
8:29- If I were not in Young Life- Sr guys
8:33-Rockbridge Video/Announcements
8:36- Change Me (Song 5)
8:40- Zach intro Sr leaders/ leaders/ Drew
8:43- Drew talk
8:57- gather by grades in corners
9:02-music plays for exit
Club Started At School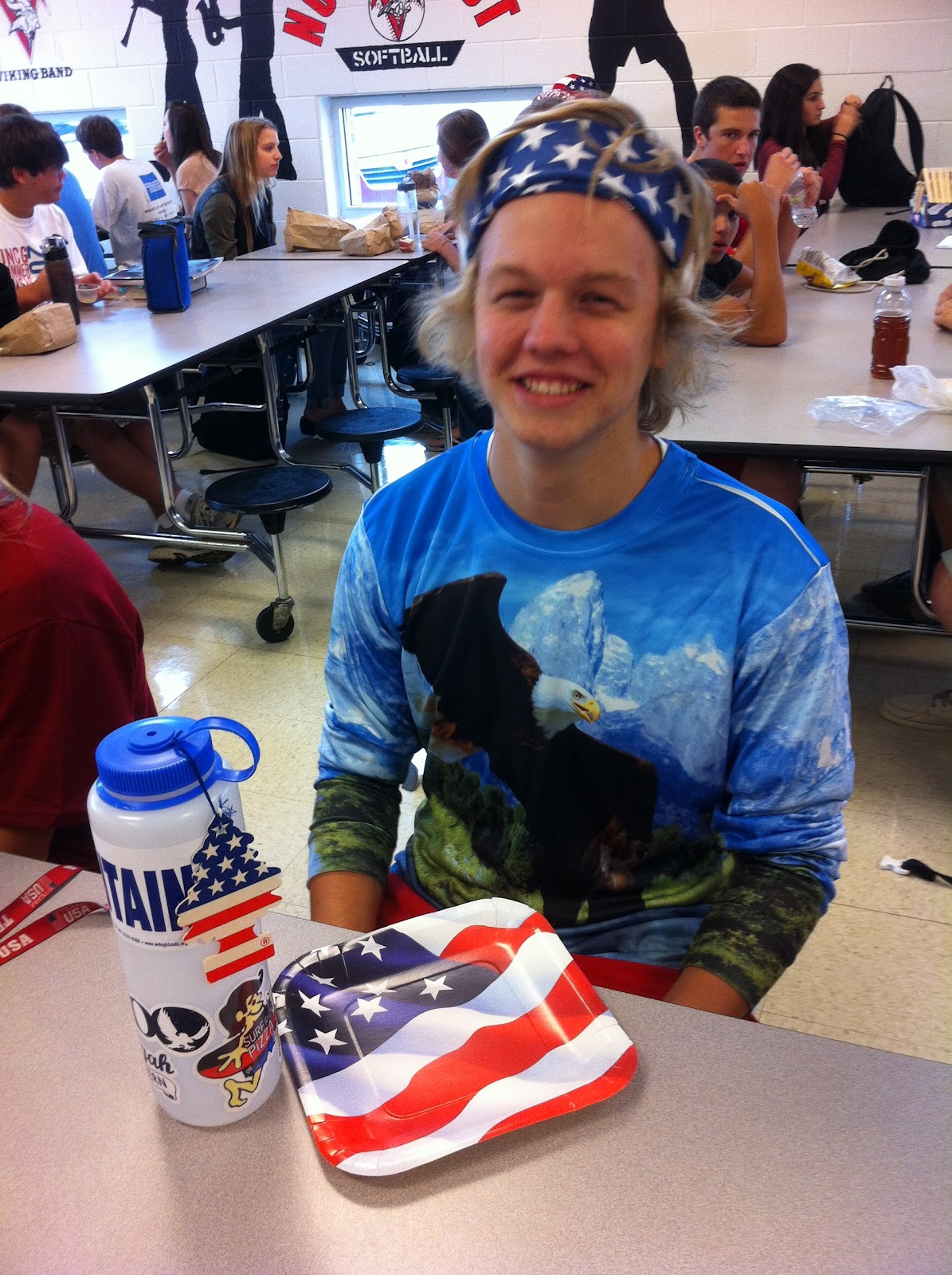 It's helpful when kids involved with YL are also on the Homecoming Spirit Week planning committee. They planned 'Merica Day' to coincide with our first club. My buddy Brandon went all out. Even bought dollar store plates to pass out at lunch. How 'bout that shirt?
Sparkler Tunnel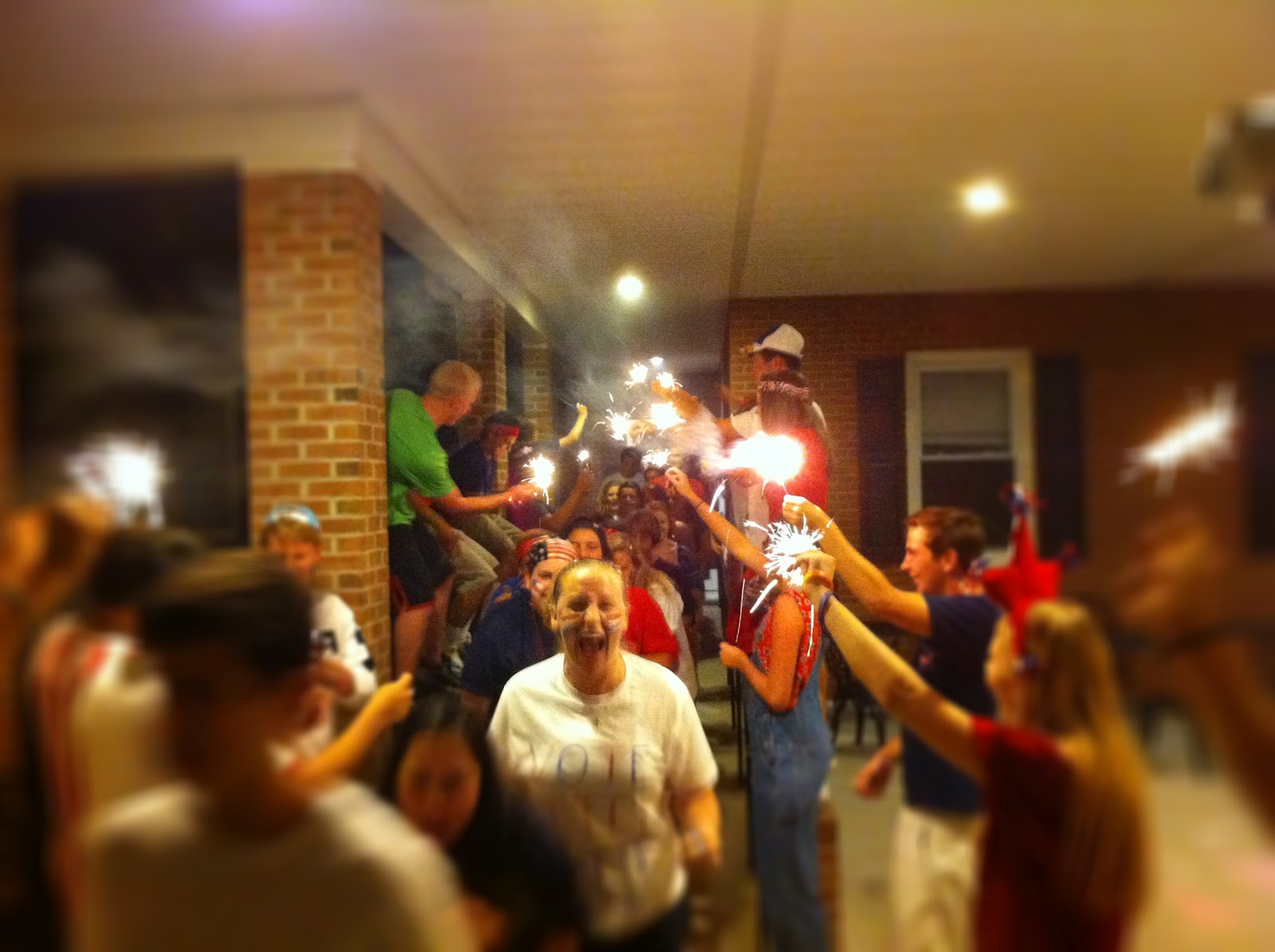 We have a tradition to start club each week where the seniors form a tunnel and all the underclassmen run through as club begins. For 'Merica club we stepped it up a bit and added sparklers. Thankfully no one caught on fire.
Cheerleaders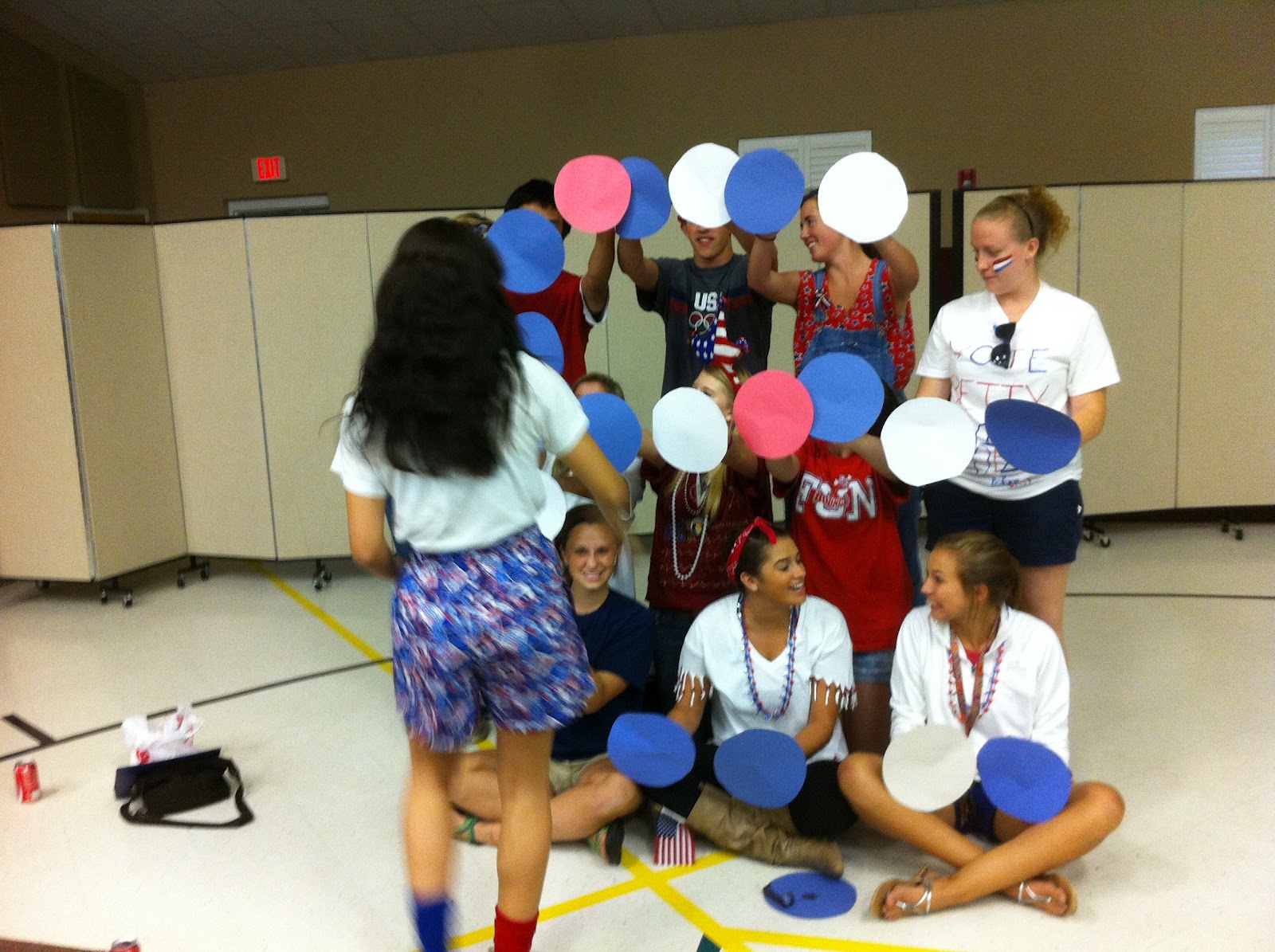 We tried to get our cheer team to come perform but that sadly fell through, so our senior gals made pom-poms out construction paper and did a cheer where they spelled out 'Merica. 'Give me an apostrophe, apostrophe, you got your apostrophe, apostrophe, apostrophe.'
Balloon Stomp
Many hands make light work. Many balloons make light heads. The seniors worked together before club and blew up 400 red, white, and blue balloons, and then tied string to each of them. For our opening mixer we played Balloon Stomp and whoever had a balloon remaining in the end was the winner. The game actually lasted too long to crown one single winner, but it was hilarious chaos. Next time we need to crank the air conditioner cause things got sweaty. The key to success in this game is the clean up process. As soon as the game ended, Captain 'Merica and Miss 'Merica (two seniors running the game) had everyone race to pick up all the balloons while seniors carried trash bags around.
Most 'Merican
We gave away t-shirts to the winner of the 'Most 'Merican' contest. All kids that dressed up had a chance to be in the spotlight as they walked across stage. The top 5 outfits stayed on stage and the crowd voted for the winner. During the 'costume contest' we played 'Born in the USA.'
Red, White, & Tru
I asked a group of Junior guys if they would write a rap about 'Merica to perform at club. They went all out and wrote hilarious lyrics. They called their group 'A'Merica' and their song 'Red, White, & Tru.' You can watch part of it here.
Sweet Home 'Merica
Instead of singing 'Sweet Home Alabama,' we sang 'Sweet Home 'Merica, where it's red, white and blue…RED, WHITE, & BLUE…." and we combined it for the traditional mashup with 'Fresh Prince of Bel-Air.'
Other Good Ideas We Didn't Use (thanks to Adam and other blog commenters who shared ideas as well)
Sunflower Seed Spittin' Contest

Hot dog eating contest

Presidential Debates over silly topics

Accent Contest: Drawing states out of a hat and having to say a phrase with that state's accent.

Sing: Proud To Be An American, Star Spangled Banner

Do the Pledge of Allegiance

Bobbing for Apple Pie: Hide objects in pie they have to find with mouth.

'Merica Trivia

Sing-off: divided in 4 groups singing patriotic songs until a group repeats a song or goes blank.

Skit with rednecks that love

'Merica and tell stories one-upping each other on how much they show their love of country.
You can download our PowerPoint slides here.
If you have any ideas to add, please comment below.