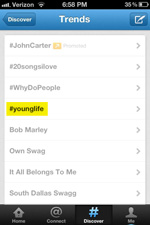 THIS Monday, September 17th, let's get #YoungLife TRENDING ON TWITTER!
We did it last February, let's do it again!
If you're new to Twitter, one of the ways the Twitterverse stays up to date on what's HOT is by watching what's trending on Twitter. (Read more about Twitter Trends)
Here at the beginning of the new year, let's all work together to pump up the momentum for Young Life clubs everywhere by getting #YoungLife trending on Twitter.
After running a poll last semester, it seems that over 75% of all clubs are held on Monday nights, so we're going to shoot for THIS MONDAY, September 17th.
With over 35,000 YL leaders and hundreds of thousands of our teenage friends working together, it should be easy to get #YoungLife trending!
All you need to do is to include #YoungLife in all your tweets or even tweet #YoungLife 13 different times in 1 single tweet. Ask all your friends to do the same… and to retweet you.
While we don't know the exact algorithm to make #YoungLife trend, research has shown that we need at least 20 tweets per minute mentioning the same word. Use the hashtag #YoungLife.
Most clubs on the east coast start between 7pm-8pm, so we're going to start the trending an hour before that at 6pm EST.
Here are the following times depending on your time zone to tweet on Monday, Sept. 17th:
EST- 6pm
CST-5pm
MST-4pm
PST-3pm
AKST-2pm
HAST-1pm
While trending on Twitter is of no 'actual value,' it will be a fun topic for kids to talk about and just another way to spread the word about clubs starting back this semester.
Here is a sample tweet you can copy and paste as your tweet this weekend:
"Let's get #YoungLife trending on Monday Sept. 17th at 6pm EST. Spread the word worldwide! Please retweet! #YoungLife
Below are two links on how to use Twitter in Young Life:
How To Maximize Twitter As A Contact Work Tool via YoungLifeLeaders.org