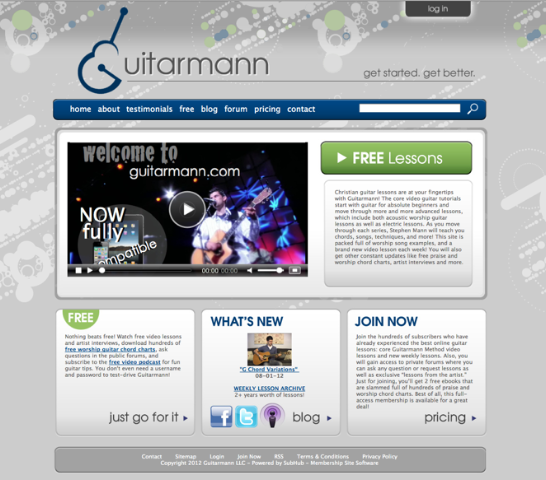 Today's post is written by Stephen Mann, a friend of Young Life & creator of Guitarmann.com. Stephen offers Young Life leaders unlimited guitar lessons for less than $10/month. If you want to learn how to play guitar for club or to help your friends learn, this post is for you. From personal experience I can tell you Stephen is an incredible teacher.
Music is a gift from God. As you see each week at club, it has the power to both connect people to each other and to God. In over 15 years of leading music in small churches, mega-churches, camps, and oversees trips, some of my fondest memories are leading music at Young Life clubs and camps.
At the time I started, I was a shy high schooler who discovered a gifting and a passion for guitar. YL club was one of the first places where I got my feet wet playing in front of others, so I remember well all of the encouragement I got from my Young Life leaders and even the cool high school kids!
Over the years, God helped take a gift and turn it into a talent of helping others learn how to play. As I sharpened my skills in teaching from the perspective of leading, I developed a system called the "Guitarmann Method," which starts from the very beginning and walks step by step to teach everything needed to play any song that you'd see in a YL setting or a worship setting. What started as a method has grown into a video lesson website where hundreds of people from around the world have either started from scratch or have gotten better from the site.
Over the past 3 years since launching http://guitarmann.com, I've received lots of emails of people who are now leading worship in their church and joined Guitarmann knowing nothing about guitar. It doesn't get any better than that! There have also been a lot of people who are mediocre players who want to learn more about playing and expand their ability. That's why I upload a new video lesson every week, with a new technique, song example, or style.
The site is a subscription site, but, from the beginning, I've wanted it as a solid and cost effective resource available to those in ministry. The subscription for the site is normally $14.95 monthly for access to hundreds of video lessons, but you can enter the code younglife as you check out, and it will drop to under $10 per month! I know sometimes money is tight! I hope those of you leading or wanting to start leading will take advantage of this as resource to pour into the life of high school students. Even if you don't join, feel free to contact me through the site if you ever have questions about guitar. I'm happy to help!
Stephen Mann
YL promo code: younglife