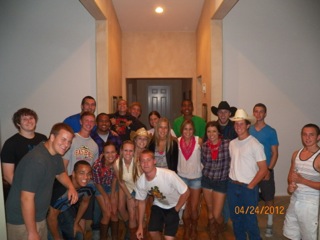 Today's guest post was written by Natalie Valov, a YL leader in Bakersfield, CA.
I was recently having lunch with two core Young Life girls. They were chatting about the upcoming week and getting ready for prom when the subject changed. My high school friends began to talk about a girl they absolutely hated. I asked them who she was and if I'd ever met her.
They replied, "Oh no, you wouldn't know her."
Having been to practically every school sporting event, play, and activity that year I asked why I wouldn't have met her. Their response was this, "She is the last person that would ever step foot near Young Life. She is the worst person in our entire school…maybe even in Bakersfield. You don't even want to know half the things she has done."
The first thought that God placed carefully in my mind was, "THAT is the girl I want at club." All day Saturday, Sunday, and a good chunk of Monday I prayed that God would get this girl to club. I prayed the same exact prayer that Jim Rayburn prayed so many years ago, "Oh Lord Jesus give us the teenagers that we may lead them to thee." That is all. I asked God to give her to us long enough to have a meaningful conversation.
That night Brooke came to club for the first time in her life. On a day full of chaos, that I thought was bound to end in disaster (as our Monday nights usually are with two leaders, 30 kids, and no area director), God had answered a simple prayer.
I didn't hunt her down and awkwardly beg her to come to club. Having never met her, I simply asked God to bring her and He did.
It's easy for me to get caught up in the busyness of trying to get kids to club or trying to force relationships. I often forget that if we ask, God will bring them.
I was brought back to the basics of what Jim Rayburn prayed so passionately. It humbles me more each time I simply ask God to provide the teenagers…and He does it.
"Lord give us the teenagers that we may lead them to thee."
-Jim Rayburn