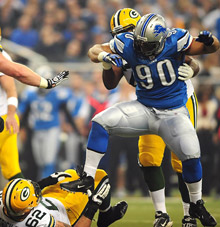 Matthew 14:17: ""But we haven't anything here," they told him, "except five loaves and two fish."
Mark 12: 42: "Then a poor widow came up and dropped in two little coins, worth together about a halfpenny."
Matthew 17:20: "I assure you that if you have as much faith as a grain of mustard-seed you can say to this hill, 'Up you get and move over there!' and it will move."
Last week the flu kicked my tail harder than Ndamukong Suh kicks on Thanksgiving.I didn't make it to the high school even once. I don't want kids to think that I'm not showing up at school anymore, just because club has wrapped up… but after missing a week of work/life, it has been tough to get out to the school this week as well.
We had a big basketball game on Wednesday night at 7:30pm against a cross town rival. I was tied up til 8:45pm and had pretty much given up on being able to go. After my meeting wrapped up I tweeted out to get a score/remaining time update. Immediately one of my high school friends replied. Oh, the joy of Twitter. I knew if I hustled I could possibly make the 4th quarter.
I drove 9 mph over the speed limit (illegal, but still morally upright and generally safe?), parked and ran in to the gym. I immediately saw the scoreboard, with our team losing by ten and… only 8 seconds left on the clock. Before I could even think about my disappointment, the buzzer sounded.
The crowd started pouring out and there I was "stuck" holding the exit doors. It was incredible! I was able to see every student who'd been at the game… and to give a few 'good games.' After mingling with the eager to leave losing crowd, I hung around to see the dejected Varsity players. In the meantime, the JV team returned after their away loss, and I was able to meet a few guys I'd never met before.
What I thought might be a wasted trip turned out even better than spending two hours locked in the crowded stands. The thirty minutes of post-game contact work gave me a chance to see and talk to even more kids. It was a blessing in disguise.
In our busy lives it often seems hard to make it out to the school, to do contact work, to be YL leaders. When I saw only 8 seconds left on the clock, I felt like I had failed once again. But…God.
I'm thankful we have a Heavenly Father who can multiply 8 seconds… a lot like He does with fish & loaves, widow's mites and mustard seeds.